Chickpea
The chickpea module was developed by Peter Carberry, Jill Turpin and Michael Robertson, with contributions of data from Bob Brinsmead and Harry Marcellos. The module is described in the paper by Robertson et al. (2002). This module is being updated by work conducted by Jeremy Whish at APSRU.
The reader is referred to the science document for the plant module
for a comprehensive description of the processes simulated by APSIM-Chickpea. This document outlines some chickpea-specific issues that are not covered by the plant science document.
Notable features of APSIM-CHICKPEA
The Module simulates dsi types of cultivars The phenology of chickpea cultivars is responsive to temperature and photoperiod, but not vernalisation. Model performance on days to flowering was reported by Carberry (1996) and is repeated in the graph below (Figure 1). The module does not simulate production from second and further flushes of flowers and pods. Under well-watered conditions, chickpea may have a low harvest index due to continued vegetative growth at the expense of reproductive yield. The model does not currently simulate this phenomenon. When chickpea flowers and attempts to set pods under cold conditions, pod set can be delayed until temperatures rise above a critical threshold. This phenomenon is not simulated in this module. APSIM-Chickpea is not phosphorus-responsive, this is currently under development. Crop growth is not sensitive to waterlogging.
Cultivars and crop classes
There is one crop class. There are 6 cultivars able to be simulated: Amethyst, CPI56288, Dooen, Tyson, CV244-1, CPI56566. Cultivars differ in terms of biomass partitioning to grain and phenology. If users wish to use more modern cultivars they should contact Jeremy Whish at APSRU for advice.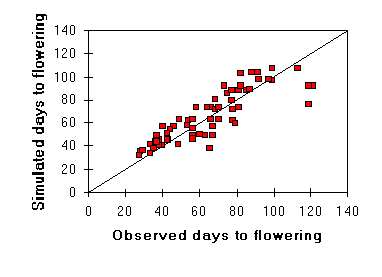 Figure 1: Observed and simulated days to flowering for chickpea.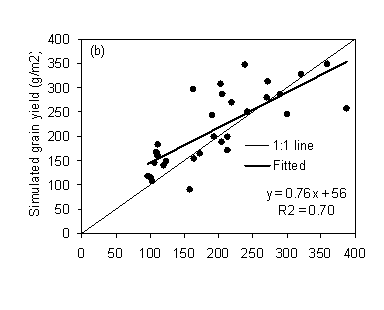 Figure 2: Performance of the chickpea module (observed versus simulated grain yield in g/m2) against test datasets reported by Robertson et al. (2002).
Validation
APSIM-Chickpea has received testing across the northern Australian wheat belt, with factors such as cultivars, sowing date, irrigation, soil type, row spacing varying. Some testing has occurred in Wa as well. Limited testing has been conducted under dryland conditions in Syria (Moeller 2004). Papers describing validation of APSIM-chickpea are by Carberry (1996) and Robertson et al. (2002). The accompanying figure 2 demonstrates the performance of the module against Australian datasets.
In which environments should this module be used with confidence?
APSIM-Chickpea can be used with most confidence in the semi-arid sub-tropics of northern Australia, the Western Australian wheat belt, and with less confidence in dryland environments of the Merranean.
References
Carberry PS 1996 Assessing the opportunity for increased production of grain legumes in the farming system. Final Report to the Grains Research and Development Corporation, Project CSC9, 33pp.
Moeller, C 2004. Simulation of chickpea and wheat growth in response to a semi-arid Merranean-type environment using APSIM' (Agricultural Production Systems Simulator. PhD Thesis Hohenheim University.
Robertson, M.J., Carberry, P.S., Huth, N.I., Turpin, J.E., Probert, M.E., Poulton, P.L., Bell, M., Wright, G.C., Yeates, S.J., and Brinsmead, R.B. 2002. Simulation of growth and development of diverse legume species in APSIM, Australian Journal of Agricultural Research 53:429-446.